Sentinel Secure Collaborative Suite
All in one solution.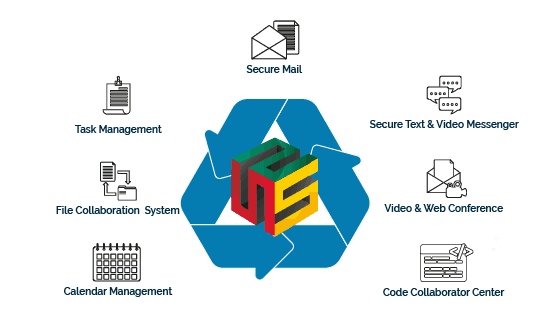 Secure Mail
Secure Mail Server and Secure Mail Client with end-to-end encryption ensure your high performance and high level security
Task Management
Share your daily task with others within local or internet connection under one organization.
File Collaboration System
Share, edit, update and secure your file with others in one secure system.
Calendar Management
Arrange your day to day events, schedule, and other tasks in a secure way.
Secure Text & Video Messenger
An end-to-end security with encryption sealed within the text and video calling.
Video & Web Conference
Light but high performance video and web conference through secure network.
Code Collaborator Center
Exchange code between users in one centralized system.
Secured Network
Sentinel Secure Collaborative Suite with IPv6 is an end-to-end encryption system conjunction with Sentinel Secure Foundation.
Sentinel Secure Collaborative Suite is a all in one solution that combines all features in one system and processes to ensure employees can connect and collaborate with the people, information and the resources they require at any given time.
Sentinel Secure Collaborative Suite include an email client, Web conferencing, task management, video capabilities, document sharing capabilities, instant messaging and more. It is designed to enables data to safely flow throughout your organization and across your firewall to partners, vendors and customers — while keeping files accessible, compliant and secure.
When files and documents are the lifeblood of your operations, Sentinel Secure Collaborative Suite give the ability to share information, files, and data, and reduce Tasks and Projects difficulty in order to give space in functional workflows. More importantly, it will provide a modern internet protocol IPv6 and Mobile Device Management.
Let's Start Securing Your Network!
Like Nothing You've Seen.
Call Us Today & Experience Secured Network
Contact Sentinel
Cyber Security Starts Now!
With Sentinel Cyber Resilience and Security, your total protection and enhanced Cyber Security begin. Sentinel Cyber Resilience and Security offers with many features, starting from Security Foundation with IPv6 Enforcement and Migration, until Unified Threat Intelligence with Network Intrusion Detection and Prevention System, you can secure your internal network and also attackers from internet.
Recommendation And Requirement for Total Cyber Security Protection
Download Brochure